When you are looking for a veterinary care clinic you should be able to count on superior care and excellent service. We at Kaibab Animal Hospital in Scottsdale, Arizona have assembled an expert team of veterinary professionals to bring you the best possible healthcare for your pet. We have a state of the art veterinary facility which is clean, comfortable, and efficient. Call (480) 947-8113 to schedule an appointment and we will find a time that is convenient for you.
We recommend bringing your pet in every 6 months for a semi-annual wellness exam.


Dr. Darren Wright will check the health of your pet from head to tail, and you will be very happy you came to Kaibab Animal Hospital for service.


Your pet's semi annual wellness exams will include a complete physical to include a thorough examination of the eyes, ears, teeth, heart, lungs, abdomen, body condition and hair coat.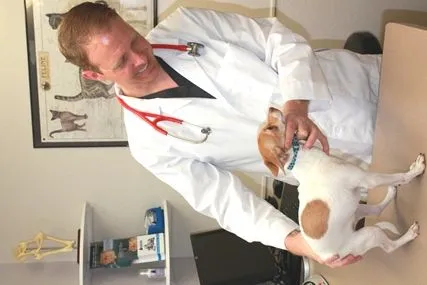 Keep track of small shifts in your pet's behavior, including urinary marking habits and mood swings, along with diet and routine modifications. Take this notebook when you visit the vet. These seemingly unrelated occurrences may help explain results of your pet's medical tests. If you have something like this, share it with our team. If not, let us know everything that you think will be important


Bring in any medical history you have of your pet when you come to our vet clinic. You can also have your previous veterinarian email records to us at [email protected]. prior to your appointment.

In some circumstances, our doctors will refer you to a specialist who has advanced expertise in areas such as internal medicine or surgery.
Our veterinarians are calm, compassionate and willing to explain all the procedures your pet undergoes. We are convenient, and our qualified staff and facilities are set up to undertake surgery and perform procedures requiring anesthesia, such as teeth cleanings, spays and neuters, orthopedic surgeries, and soft tissue surgeries